Features
Accurate indoor positioning
High accuracy of measurements provided – better than standard radio-based IPS (Indoor Positioning System) implementations: Bluetooth beacon, (Radio-Frequency Identification), UWB (Ultra-Wide Band).
Measuring of position and movement direction
Regular position updates incoming from M360 technology can be combined with corresponding movement direction data.
Objects' height measurement
M360's image recognition algorithm provides also measurements of objects height within the scope of camera view.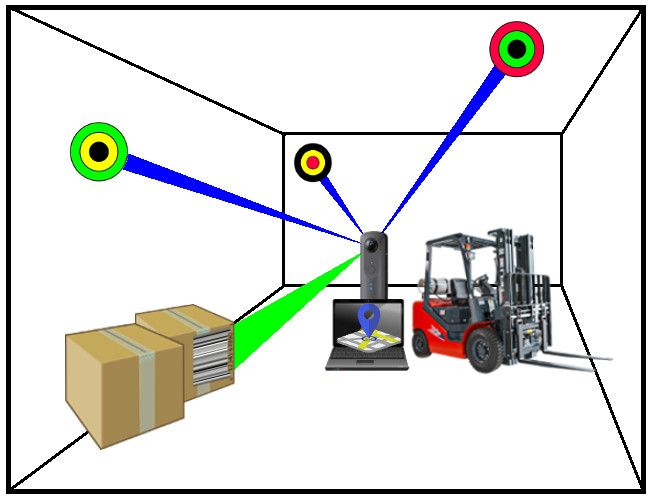 Barcodes recognition
M360 recognizes barcodes, which allows you to manage information about the location of stored goods.
Easy deployment
High-scalability, easy and low-cost maintenance and flexibility to tune and improve measurements are benefits of using M360 technology.
Operating in tough environment
Image recognition approach to IPS solves number of challenges radio-based technologies cannot usually handle: high-energy electromagnetic fields, radio waves interference, white spots caused by solid metal constructions, etc.
| | | | | |
| --- | --- | --- | --- | --- |
| | GPS | Bluetooth | RFID | Measuring360 |
| Outdoor | Yes | No | No | No |
| Indoor | No | Yes | Yes | Yes |
| Accuracy | Less than 1m | 1m - 5m | 10cm - 5m | 10cm - 30cm |
| Direction of movement | No | No | No | Yes |
| Height | No | No | No | Yes |